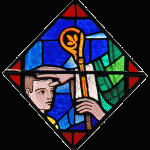 At Our Lady and St Anne's church, a Confirmation Mass will be celebrated once per year, normally in May or June, and on most occasions the Sacrament will be administered by our area bishop, Bishop William Kenney. Candidates for Confirmation (normally in Year 8 or 9) will need to be baptised Roman Catholics who have also received the Sacrament of the Eucharist.
Prior to receiving the Sacrament of Confirmation, candidates will need to attend a preparation course on dates to be announced. To enrol candidates onto the Confirmation programme for the year, parents need to complete an enrolment form. This can be picked-up from the Parish Office.
Confirmation Mass for 2018 will be Wednesday 6th June @ 7pm.