Children's Liturgy
The Children's Liturgy group at Our Lady and St Anne's Church is run during the 10am Sunday Mass.  Children from tiny tots up to eight years old (First Holy Communion age) come along to listen to the Gospel, sing, pray and do a craft activity that represents the message of the day.  This is a wonderful way to enable young children to access the Word of God at their own level, and to understand His love in a personal way.
Children's Liturgy is led by volunteers on a rota.  The volunteers are parents in the parish who are enthusiastic about spreading the Good News in a way that children can access.  As a team we are always looking for more helpers to lead sessions and/or help behind the scenes.  To conform with good safeguarding practice, all leaders have DBS clearance from the Archdiocese of Birmingham.
You don't have to be a teacher or a parent, but you do need to have a deep love of the Gospel, and a desire to share it with young people!  If you would like to help out, or have any questions or comments about Children's Liturgy, please contact the team at childrensliturgy.stannes@gmail.com.
---
Recent News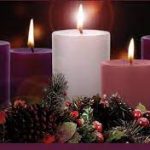 Advent Carol Service
Thurs 21st Dec here in the church, at 7.30pm. A time of spiritual preparation with Advent readings and carols to …