Baptism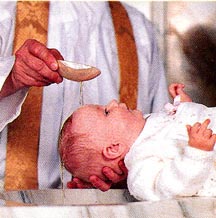 BAPTISM
Holy Baptism is the basis of the whole Christian life, the gateway to life in the spirit, and the door which gives access to the other sacraments.  Through Baptism we are freed from sin and reborn as sons/daughters of God; we become members of Christ, are incorporated into the Church and made sharers in her mission: 'Baptism is the sacrament of regeneration through water in the word.' CATECHISM OF THE CATHOLIC CHURCH (CCC) No. 1213
Since the earliest times, Baptism has been administered to children, for it is a grace and a gift of God that does not presuppose any human merit; children are baptized in the faith of the Church.  Entry into Christian life gives access to true freedom.  CCC No. 1282
At Our Lady and St Anne's church, baptisms of babies and small children take place at 12.00 noon on the first Sunday of each month.
Fr Patrick likes to meet with the parents asking for baptism for their child/ren at least once before the baptism. Please ring the office on 0118 947 1787 to make an appointment. You will complete your details with Fr Patrick when you arrive.
The Application for Baptism form should be self-explanatory, but here are a few guidelines:
Remember that at least one of the parents must be a practising Roman Catholic, and the other must be supportive. During the service you will make promises that you will bring-up your child in the practice of their faith.
Choose godparents carefully. Each one must be a baptised Christian, and at least one must be a practising Roman Catholic.
Remember that the Sacrament of Baptism is not administered during the Season of Lent.
If you are not resident in the Parish of Our Lady and St Anne you will need the permission of your own parish priest for your child to be baptised here.
---
Recent News