St Vincent de Paul Society
Seeking help, support or just a chat? The St Vincent de Paul Society is here to help you.
If you need friendship, advice, support or anything else, simply contact us and we'll do our best to assist. The SVP is part of an international Christian voluntary network dedicated to tackling poverty in all its forms by providing practical assistance to people in need. The Our Lady & St Anne SVP conference is a dedicated team of volunteers who offer help through befriending and visiting people in our community, organising support such as our foodbank drive to support local families, and fundraising to aid those in need.
Contact us to find out how we can help, and also if you'd like to join us [18 or over].  We're always looking for more people willing to give us a little of their time to help others.
How to get in touch:
Our Lady & St Anne SVP Conference
Bev Ryan, President
Email: bjryan@virginmedia.com
Mobile: 07969 884212
The St Vincent de Paul Society (England & Wales) is a registered charity number 1053992
---
Recent News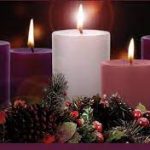 Advent Carol Service
Thurs 21st Dec here in the church, at 7.30pm. A time of spiritual preparation with Advent readings and carols to …