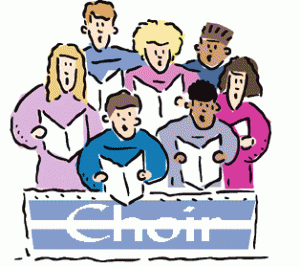 The choir of Our Lady & St Anne's was formed in the Spring of 1986 by Patty Naxton, L.R.A.M., at the request and with the help of the then parish priest, Fr Thomas Meagher, and Patty still runs it, with several of the existing members having been with us since that time too. We are a traditional 4-part choir (soprano, alto, tenor, bass), currently numbering 16, whose aims are threefold; to lead the congregation in their singing of the music, in order to enhance the prayerfulness and thereby deepen their experience of taking part; to keep alive the musical traditions of the Church; and to introduce new music into the repertoire of the parish.
Singing at the 10.00am Mass every other Sunday, alternating with the Music Group, and on all major Feasts and celebrations, we particularly love the early English motets and also regularly include some Gregorian plainchant in the Mass, as well as singing traditional and modern hymns and Mass settings.
We meet every other Tuesday evening, in the weeks preceding the Sundays on which we sing (a list of those dates is posted on the notice board in the Narthex), in the Church, from 8.00pm and practices usually last about an hour. We are always looking for new voices to swell our numbers and no auditions are held although a real commitment is required to attend regularly both practices and the occasions on which we sing.
For more information contact Patty Naxton at patricianaxton@outlook.com, or her deputy Berna Macdonald on bernamacdonald@gmail.com, or speak to either of them after the relevant 10.00am Sunday Mass.