Church Refurbishment

Church Refurbishment and Shrine Restoration are bound together in a single project because, really, one cannot happen without the other. The church building is 113 years old, much of the fabric needs repair, and this must be done before redecoration can take place. The Shrine has existed in the church for over 55 years and it, too, needs fabric repairs before the proposed artwork can be added.
This Church Refurbishment page has links to the architect's plans, in PDF form, for repairs to the exterior of the church, and to the proposed modification and redecoration of the interior, as follows:
Church external repairs: fabric-final
Church internal modifications and redecoration: olsa-final-floor-plan-and-palette-2
Details of the proposed work on Shrine Restoration can be found under the The Shrine tab, or by clicking here.
A lot more information is available in three homilies preached by our parish priest, Fr Paul Martin.
The first of these homilies was preached on the Thirteenth Sunday (26 June 2016), and this concentrated on the history which led to the Shrine of Our Lady of Caversham being established in the Church of Our Lady and St Anne: Homily for 13th Sunday in Ordinary Time 2016
The second was preached on the Fourteenth Sunday (3 July 2016), and this explained the work that needed to be done on the fabric of the church, the vision for its redecoration, and the need for serious fund-raising: Homily for 14th Sunday in Ordinary Time 2016
The third was preached on the Twenty-First Sunday (21 August 2016), and this broke the good news that the Diocesan Art and Architecture Committee had granted the requested faculty that would enable us to proceed with the proposed plans for the church and shrine. It also revealed that about £600k will be needed to complete the proposed works. Hopefully, much of this will be raised from external sources, but the parish will need to get serious and aim to raise around £100k ourselves: Homily for 21st Sunday (Shrine Update)
An attractive Timeline, summarising the history of the Shrine, may be accessed in this PDF: shrine-history-timeline
Donations towards the Refurbishment of the Church, and the Restoration of the Shrine, are encouraged and welcome, and will be gratefully received.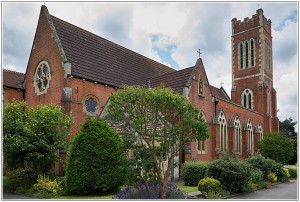 ---
Recent News