Afternoon Teas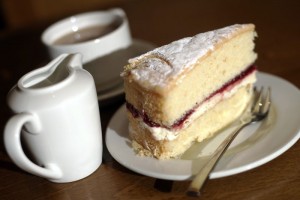 Tuesday Teas take place on alternate Tuesday afternoons between 2.00 and 4.00pm
 Tuesday Teas are held in the Cenacle every other Tuesday afternoon.  They are open to all, parishioners and others, and give people a chance to meet up and have a "good old chat" over a cup of tea, with the added bonus of delicious home-made cakes to enjoy.
The idea behind these teas is twofold.  Firstly, to give people the chance to socialise and, secondly, to raise money for a project of choice.
The organisers of the Tuesday Teas bring along the food and drink, and the guests pay a sum of around £1.50 towards the cost.
There are usually around 12 to 15 people at each session.  A raffle is always part of the proceedings, and guests are invited to bring an item for this. The money made on the raffle is always donated to the current project.
Tuesday Teas have been taking place since 2011, and so far the following amounts have been donated:
St Anne's Building Fund:   £3,800
St Anne's Shrine:                 £1,500
Sue Ryder Foundation:      £2,475
We are always pleased to see new faces, so please come along and join us and, if you can, bring a friend with you.
---
Recent News