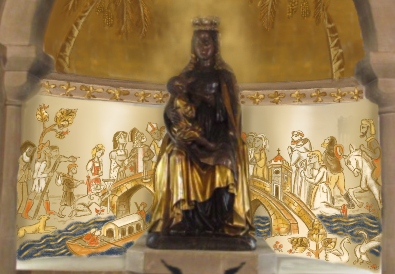 Full details of each day of Fr Paul's 11 day walk from the Shrine of Our Lady of Walsingham to the Shrine of Our Lady of Caversham are available on the Shrine Restoration page of this website.
Work has started on restorating the Shrine. Cabling has been installed for lighting, and the walls are being plastered in readiness for the art work to be applied. Completion is planned for this coming September.
Donations towards the Restoration of the Shrine, and the Refurbishment of the Church, are encouraged and welcome, and will be gratefully received. They made be made through this link to the JustGiving website.
Prayer to Our Lady of Caversham
All holy Mother of God,
who in the ages of faith did receive in this holy place
the veneration of our fathers,
pray for us that we may grow in God's grace,
and may be led to the knowledge and love of your
Divine Son
who, with the Father and the Holy Spirit,
lives and reigns, world without end. Amen