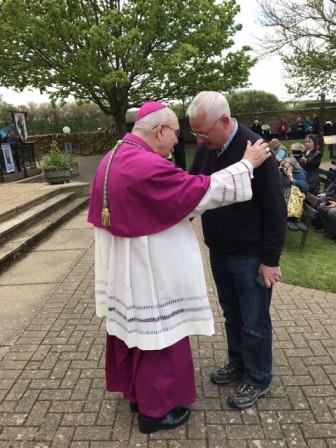 Fr Paul Martin has completed his eleven day walk from The Shrine of Our Lady of Walsingham, in Norfolk, to the Shrine of Our Lady of Caversham in Reading, Berkshire. He set off from Walsingham on Monday 1st May, following his celebration of Mass with the people who had travelled from Caversham to see him on his way. Also, before leaving, Fr Paul received a blessing from Bishop Alan Hopes, the Bishop of East Anglia.
Fr Paul's blogs from each day of his walking, with some pictures, may be seen on the JustGiving website by following this
link: http://www.justgiving.com/fundraising/Fr-Paul-Martin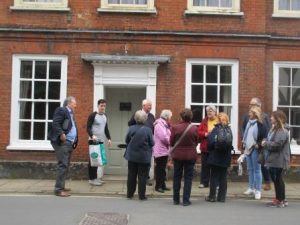 This document shows Fr Paul's itinerary for each day of his walk: itinerary for Walk from Walsingham to Caversham
In this homily, Fr Paul's announces his plans to walk from Shrine to Shrine, and gives some of his reasons: Homily for the Second Sunday of Lent 2017
A lot more information may be found in the Shrine Restoration page of this website.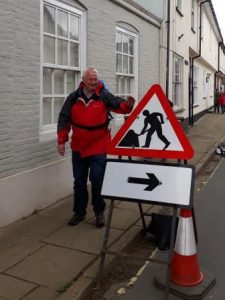 As mentioned above, Fr Paul commented daily on what he was doing and how he was feeling. If you use the following JustGiving link, you will be taken directly to the correct page and, while you are there, please contribute towards the cost of restoring the Shrine of Our Lady of Caversham, work which has already started.
https://www.justgiving.com/fundraising/Fr-Paul-Martin